One of the many features that TalentNest offers is the ability to warm source candidates in your existing pipeline. In addition to Candidate Search, Candidate Tags, as well as Mass Email functions, you may leverage Bulk Tagging to increase efficiency in shortlisting candidates, and reduce the overall time to hire. Here are the steps to help you navigate adding and removing tags in bulk:


Adding Bulk Tags
1. By accessing Candidate Search from your Candidates tab, refine your search using the filter options on the left side of the screen.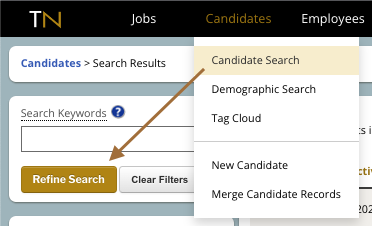 2. Scroll down to the gear icon and select Add Tag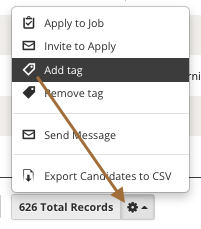 3. Input the name of your new tag in the pop-up window. For ease of use, the system will populate a list of similarities from pre-existing tags. Once you have inputted the name of your tag, select Save.

4. You may filter candidates by the new tag you created by accessing the search criteria options on the right side. Select the tag from the drop-down menu followed by Refine Search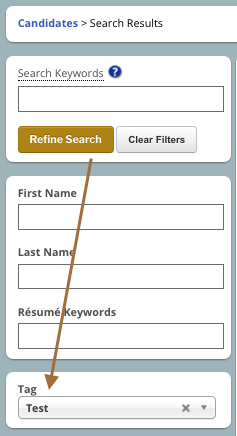 You may access your Tag Cloud from the Candidates tab and choose a tag from there. When the hyperlink is selected, TalentNest will populate the list of tagged candidates on your Candidate Search page.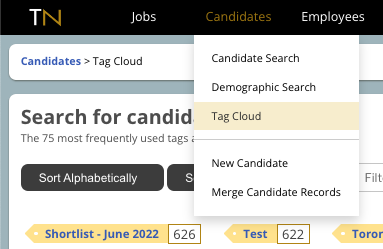 Removing Bulk Tags
Tags in bulk from both Candidate Search as well as your Tag Cloud. To use the Remove Tags feature, follow the instructions above and choose Remove Tag instead.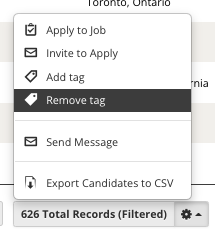 When you select Remove Tag, a similar pop-up window will appear. When you type in the tag name, the tag will be removed.